The other day, I was to ask you in progress reporting and discussion of joint research in the Institute for Protein Research, Osaka University.
For Osaka protein Research is corresponding to the post-war, rapidly evolved protein research, as a joint use facility involved in protein and its peripheral areas of national researchers, was established in 1954.
Worldwide also famous as a core laboratory of protein research in Japan, is also actually seems this protein Research're operates PDBj a Japan version of Protein Data Bank (PDB).
It it is belongs more famous teacher, biological reaction from protein structure research, covers a wide range of fields to cell research. In fact out of the boss, Sasaki teacher also had been belonging to the Osaka protein Research.
From next week, it is an experiment in SPring-8. Prepare It is Just the left to the M1, M2. And they if you will will do without any problems.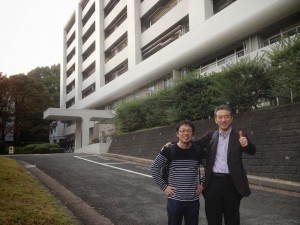 Osaka protein Research before Left: Mr. Sekiguchi(JASRI/SPring-8)、Right: Sasaki teacher
Institute for Protein Research, Osaka University H. P. : http://www.protein.osaka-u.ac.jp/index.php